Eric Carle, beloved picture book author and Army veteran, dies at 91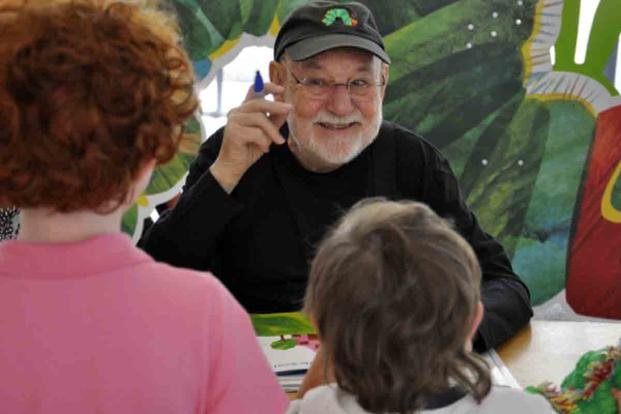 It is estimated that a copy of "The Very Hungry Caterpillar" is purchased somewhere in the world every 30 seconds. It was first published in 1969 and has sold nearly 50 million copies worldwide. The book's author, Eric Carle, died on May 23, 2021, having written or illustrated more than 70 children's books in his lifetime.
Carle's own childhood was tumultuous. He was born in Syracuse, New York, but the family emigrated to Germany when he was six. At that time, Adolf Hitler was in power and World War II was only four years away.
When war broke out, Carle's father was drafted into the Wehrmacht in 1939 and served throughout the conflict. Carle was drafted as a teenager in 1944 to dig earthwork defenses on the Siegfried Line, the last major fortification against the Allies crossing the German homeland.
His father survived the war and captivity of the Soviet Red Army, but returned home a changed man, physically and mentally. American-born, Carle longed to return to the United States and arrived in New York in 1952, just long enough to be drafted into the US Army during the Korean War.
He was not sent to Korea, however, but ended up in Germany, serving as a mail clerk with the 2nd Armored Division. Parts of Germany at this time were just emerging from post-war occupation and the dividing lines between East and West were beginning to appear. After his service, he returned to New York, where he resumed his work as a graphic designer at the New York Times.
Her journey to the beloved picture book author began to take shape during her years as a designer and artist. He started working in the art department of an advertising agency. One of his illustrations caught the eye of children's book author and World War II veteran Bill Martin Jr.
Martin was so fascinated by the illustration of a lobster that Carle created that he asked Carle to do the illustrations for his next book, "Baby Bear, Baby Bear, What Do You See?" Carle said the opportunity changed her life. After illustrating for a number of other picture books, he began to write his own.
During his career, he has received numerous awards for his work in children's literature, including the Regina Medal, the Children's Literature Legacy Award, and a Lifetime Achievement Award from the Society of Illustrators. Later in life, Carle founded a picture book museum in Amherst, Massachusetts, near his home in Northampton, where he lived and worked for 30 years.
"The Very Hungry Caterpillar" was not Carle's first book, but it is his most popular and enduring. The bright colors of its illustrations and Carle's style made the book accessible to children while teaching them about proper nutrition, days of the week, colors, food, and even a bit of a caterpillar's makeover.
Carle died of kidney failure at his Northampton home aged 91.
— Blake Stilwell can be reached at blake.stilwell@military.com. It can also be found on Twitter @blakestilwell or on Facebook.
Want to know more about veteran jobs?
Be sure to get the latest news on post-military careers as well as essential information on veteran jobs and all the benefits of service. Subscribe to Military.com and receive personalized updates straight to your inbox.
Show full article
© Copyright 2022 Military.com. All rights reserved. This material may not be published, broadcast, rewritten or redistributed.